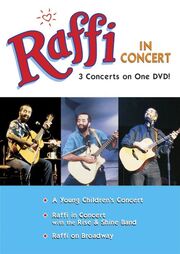 Raffi in Concert is a DVD released on September 24 2002 and it was the same time as the Thomas & Friends DVD: Salty's Secret and Other Thomas Adventures.
Videos
[
]
Songs
[
]
Trivia
[
]
This DVD uses the original 1984 master of the first video, as the closing blue message is seen, the 1993 master of the second video, and the 1999 master of the third video with a closing text message about the Raffi on Broadway album taken from one of the unknown Rounder Records copies.
K.S.E. Promise Song is the only song of Raffi on Broadway not listed since it actually belongs to the Kids for Saving Earth organization.
Goofs
[
]
The booklet for the Rise and Shine Band video says that Dennis Pendrith is on the keyboards but in the actual video, he plays the bass.