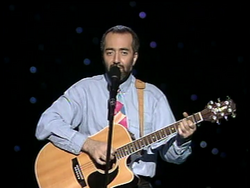 May There Always Be Sunshine is a song in English and Russia that Pete Seeger once sang.
Lyrics
[
]
Russian:
Pust' vsegda budet solntse
Pust' vsegda budet goluboye nebo
Pust' vsegda budet mama
Pust' vsegda budu ya

English:
May there always be sunshine
May there always be blue skies
May there always be mama
May there always be me

Spanish:
Que siempre haya sol
Que siempre haya cielos azules
Que siempre haya mama
Que siempre esté yo

French:
Qu'il y ait toujours du soleil
Qu'il y ait toujours un ciel bleu
Qu'il y ait toujours maman
Qu'il y ait toujours moi se
Trivia
[
]
The song debuted on Raffi on Broadway as part of the bonus segment. In 2002, the song was released on Raffi's album: Let's Play!, while using the video's audio.
Raffi sings the original chorus in Russian and translates it in English, Spanish, and French.