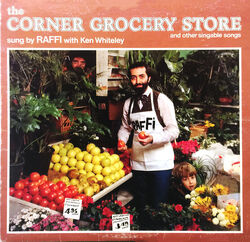 Frère Jacques, also known in English as Brother John, is a nursery rhyme of French origin. The rhyme is traditionally sung in a round.
Raffi sings it on The Corner Grocery Store.
Lyrics
[
]
French
[
]
Frère Jacques, Frère Jacques
Dormez-vous? Dormez-vous?
Sonnez les matines, sonnez les matines
Di, din, don! Di, din, don!
English
[
]
Are you sleeping, are you sleeping,
Brother John, Brother John?
Morning bells are ringing, morning bells are ringing,
Ding, dang, dong! Ding, dang, dong!