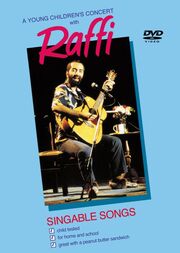 A Young Children's Concert With Raffi is Raffi's first ever home video released in 1984. It was taped in Toronto at the Bathurst Street Theatre.
Songs
Trivia
Raffi wears his Hawaiian shirt and Alaskan Eskimo boots in this video.
This concerts covers material from Raffi's first five albums: Singable Songs for the Very Young, More Singable Songs, Corner Grocery Store, Baby Beluga and Rise and Shine.
The instrumental song Nursery Rhyme (Instrumental) from the Rise and Shine album is played over the credits.